Sanwa 101A32471A - M17 + RX 491 Radio Set
Sanwa - 101A32471A - M17 + RX 491 Radio Set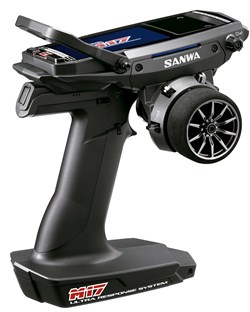 World Fastest Response!!
(NEW Record)
Light Weight!!
High Rigidity!!
Ultra Response Mode (SUR) New Transmitter system "FH5" makes new record of the World Fastest Response.
Color Display and Touch Panel are easy to control.
Light weight (about 510g) and high rigidity than M12S
Steering and Throttle Position Optimization and Steering Swing Adjust Function
Detachable Throttle Unit is available to change spring by drivers (World First)
PRODUCT DESCRIPTION:
Installed "Fine Color Display (480x320)
Touch Pad can be smooth & quick to set
Installed Detachable Throttle Unit is available to change spring by drivers
Steering and Throttle position can be optimized without off set bracket. Improved Steering Unit can be increased case strength during operation
Improved Steering Unit is available to be steering swing adjustment
Battery recharge port is installed and battery can be check when recharging
Compatible with Micro SDHC Card is available to manage firmware update, model data, and Telemetry Log
Installed Multi-Setting Function is available to set PGS servos to connect with transmitter
Compatible with SSL CODE10 and CODE5 function is available to set PGS servos and SUPER VORTEX Gen2 PRO without any connection
Installed tilt carrying handle can be holding and easy to put in the box
Steering Unit can change position for lefty
Detachable Strap Hook is placed on ideal position for drivers
Succeeded Full Adjustable Trigger can be fittable for individual
Optional Large Steering Wheel in package is available to be fine operation
Available to customize by grip pad, brake trigger, angle spacer, and variable spring in package
RX-491 is compacted receiver and waterproof and is plugged in BIND system and short antenna
Installed Screen Reader Function is available to sound Lap Time and Telemetry Data and installed headphone jack can be used
Quick and easy to set as model data and other setting by Quick Set Up Wizard
[Latest Firmware Information] 
Newest firmware is Ver.1.01.05.
Update contents are in the below.
・Install Launcher Function (Direct Model, Quick Setup Wizard, and RX Mode)
・Install MULTI SETTING GEAR function
・Fix Clock bug
・Fix Malfunction of SPEED.
・Fix LCD flickering
・Fix touch pad sensitive optimization 
・Fix Temperature indication bug
[Steps for M17 firmware update]
Download the firmware Ver.1.01.05.
      M17_1.01.05.zip ←click here
Please make "M17" folder in root directory if Micro SDHC card never use for M17. Then, make "update" folder in M17 folder.
Save unzipped "M17.prg" and "M17.res" in the "update" folder
Insert the micro SD card to M17. (Please take care of Micro SD direction)
Go to SYSTEM menu and choose SD-CARD.
Click to FIRMWARE and enter [UPDATE].
Display "UPDATE OK?" and choose "YES"
Start Update and wait until finish
*Please DO NOT TURN OFF M17 or DO NOT TAKE OFF Micro SD Card during update.
Please check Multi Setting Gear Function in the below link.
→ Multi Setting Gear Manual for M17.pdf
※The firmware can be applied firmware version form Ver.1.01.03 later.
In case of using firmware Ver.1.01.00, the M17 need to be product recall.
Please contact to our distributor in your country or E-mail to [email protected]
Dull-dot Color LCD(480x320) ●Switchable driving position(Left/Right) ●Touch Pad ●Built-in Antenna ●ST,TH Adjuster ●Detachable Fully Adjustable Throttle Unit ●Feeling ●Safety Link●Racing Mode ●Setup Wizard ●Dual Rate ●End Pint Adjust ●Anti-Lock Brake ●Servo Speed ●Offset ●Trim/Sub Trim ●Servo Reverse ●Curve ●Fail Safe ●Timer ●Lap ●CODE AUX ●Model Memory ●Model Name ●Model (Select/Copy/Clear/Sort) ●Direct Model Select ●RF Mode (FH5,FH4,FH3) ●Response Mode (SUR/SSR/SHR/NOR) ●Bind ●Log(REC/RPM/VOLT/TLM1/TLM2/ST Point/TH Point/RX Mode/Reading Function) ●Servo Monitor ●Key Assign ●Vibrator ●AUX Type ●Trim Type ●TH Type ●Calibration ●Custom Menu ●Mechanical Rudder Angle Adjustment ●Large Steering Wheel included ●Large/Small Grip Pad included ●Compatible RX: Telemetry-compatible(RX-491, RX-482, RX-472, RX-47T, RX-462, RX-461) , Non-Telemetry-Compatible(RX-481,RX-481WP, RX-471 Dual ID, RX-471W, RX-451R, RX-451, RX-381,RX-480)

【Accessory】
●Grip Pad (Large/Small) ●Large Steering Wheel ●Strap Hook ●Steering Slant Parts (Right Hand/Left Hand) ●Trigger Angle Spacer ●Brake Trigger(+1/+2) ●Spring for ST and TH (Hard, Medium, Soft, Super Soft) ●Dial Cover for Lefty
BewarenBewaren
BewarenBewaren