ReveD / RJ-004 / RC Carry bag
RC carry bag that has both a racy design and ease of use!
The main frame incorporates wide wheels, a long extension handle with a locking mechanism and contoured grip for easy transport even when full!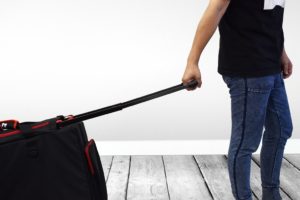 The main storage is split into 4 drawers, 2 are the perfect size for a 1/10 RC car. We also specified 2 small drawers, handy for chargers and heavier items. All drawers are constructed from strong corrugated plastic, long lasting and smooth operation!
In addition to the main storage sections a tool storage space within the flap on the top of the bag and a large pocket with flap on the back of the bag that can also store setting boards etc. The bag can be stored to store all the necessary items for driving and enjoying your Rc car.
Please try the large-capacity RC carry bag that combines a racing design with the bold Rêve D logo, great ease of use and portability.
Sizes:
Main frame: 550mm × 610mm × 280mm
Big Slide Box inner: 500mm × 220mm × 130mm
Small Slide Box inner: 250mm × 220mm × 130mm