MST RRX 2.0 Black 2WD 1/10 Drift Car KIT PRE-ORDER + FREE TR56 DAMPER
MST / 532163-PR / RRX 2.0 Black 2WD 1/10 Drift Car KIT PRE-ORDER + FREE TR56 DAMPER
* PRE-ORDER versions benefit from free included 820120BK TR-56 Aluminium Damper set! Only limited quantity available!
Specifications:
Specification: 1:10 Drift Car
Wheelbase: 257mm (adjustable 256-260mm)
Width: 190mm
Drive mode: RWD
Caster: adjustable 8/6/10/12 degree
Camber: adjustable 0 to -12 degree
Full ball bearing
Hydraulic damper set
Features:
The RRX 2.0 Black is especially upgraded the control, stability, and re-optimize the chassis and suspension settings. Either entry or high-class players can enjoy the manipulation by the RRX 2.0 Black!
Two install methods of motor mount – upper or lower gravity deployment
Two install methods of servo – vertical or lateral deployment
Plastic high rigidity constructions
New designed front great-steering suspenstion system
The adjustable steering system for two-step Ackermann changes
0 degrees KPI steering upright, and -0.5 towing distance axle design
New designed inside rods fulcrum mount at the front upper arm is adjustable for 10-step highness and both sides positions
New full-sealed dustproof gear box is transmitted by bevel gears
Standard ball differential
5 changeable second-deceleration-ratio gear sets of 1.89-3.82 (standard 3.08)
The fulcrum at the rear suspension upper rod is 5-step adjustable on both sides. The outer fulcrum is 4-step adjustable on both sides
Steel CVD axle of rear transmission system
Suitable for long and short battery
Full turnbuckles
Full great smooth metal ball connectors
Standard realistic caliper and disc shape brake set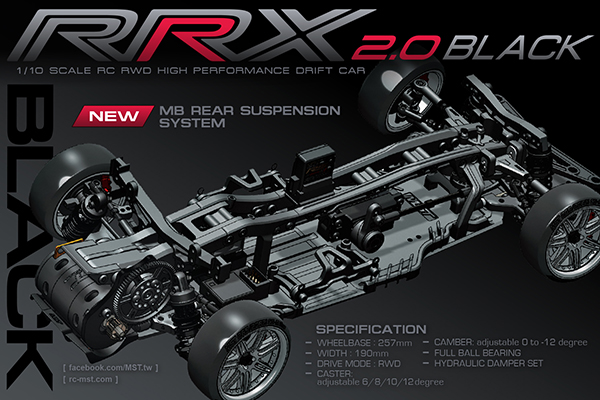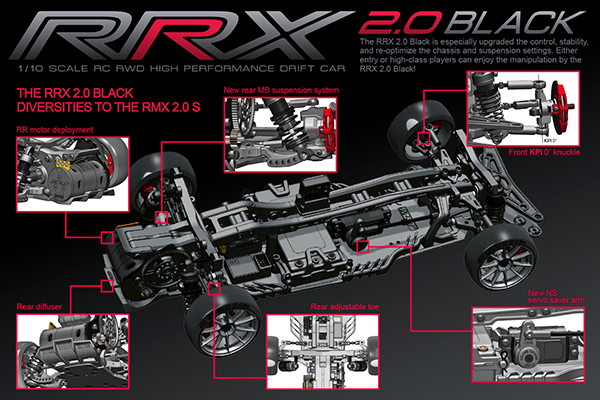 BewarenBewaren