Yokomo SDR-010 - SD 1.0 Super Drift RWD Chassis Kit
Yokomo - SDR-010 - SD 1.0 Super Drift RWD Chassis Kit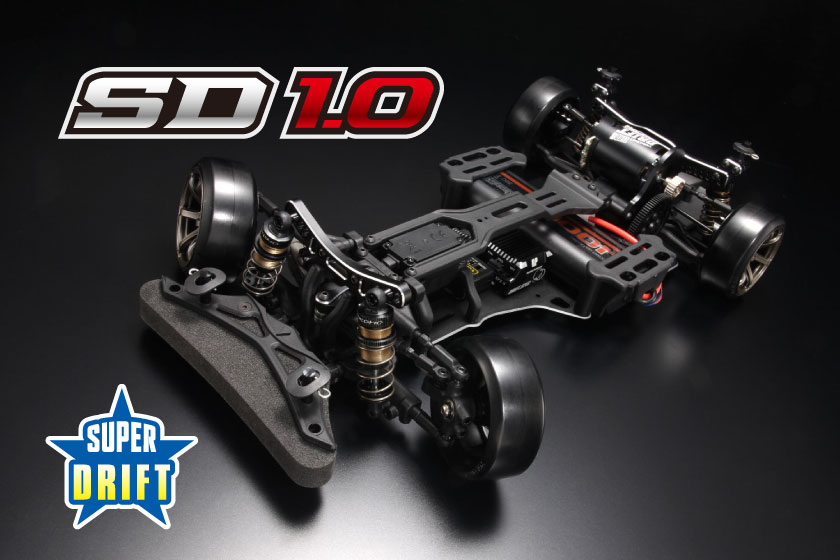 Customizing the machine is one of the great pleasures of RC cars. Especially for drift cars, in addition to setting and tuning parts, we sell a lot of parts that can be dressed up. Of course, it can handle a wide range of driving performance, and it is attractive that it has a wide range of pockets that can be adjusted to any road surface condition and any operation style.
Based on the newly developed aluminum main chassis, the SD1.0 kit comes with two gearboxes for 3 gears and 4 gears, and you can choose the behavior of the machine in response to throttle operation by changing the rotation direction of the motor. I can do it. These differences are difficult points to cover with tuning, so choosing one will support various situations. In addition, aluminum oil dampers, which can be said to be the first step in customization, slide rack steering popular with experts, aluminum front axle, aluminum rear hub carrier, etc. It is
Set contents details
■ RWD drift car assembly kit
■ 2 types of 3 gear / 4 gear gear boxes included
■ Aluminum SLF big bore shocks
■ Drifting springs
■ Lightweight slide rack Steering system
■ Aluminum shock towers (front and rear)
■ Aluminum one Body type front axle
■ Aluminum rear hub carrier
■ Aluminum upper deck adapter
■ Compatible with both standard and short Li-po batteries
Aluminum main chassis which is the biggest feature of Super Drift SD1.0. The balance of rigidity and weight brings out high running stability and realizes drift driving with a flying distance. Compared to graphite material, it is easier to absorb the micro-vibrations peculiar to hard drift tires, so one of the benefits is that the tire feels better on the ground. Of course, the original luster of aluminum due to the bevel edge treatment is also accented, creating an atmosphere that has never existed before.
The battery can be installed at the rear end only if a 3-gear transmission is selected. Although it will be dedicated to short Li-po batteries, it is a competition-oriented layout setting that can increase the rear load.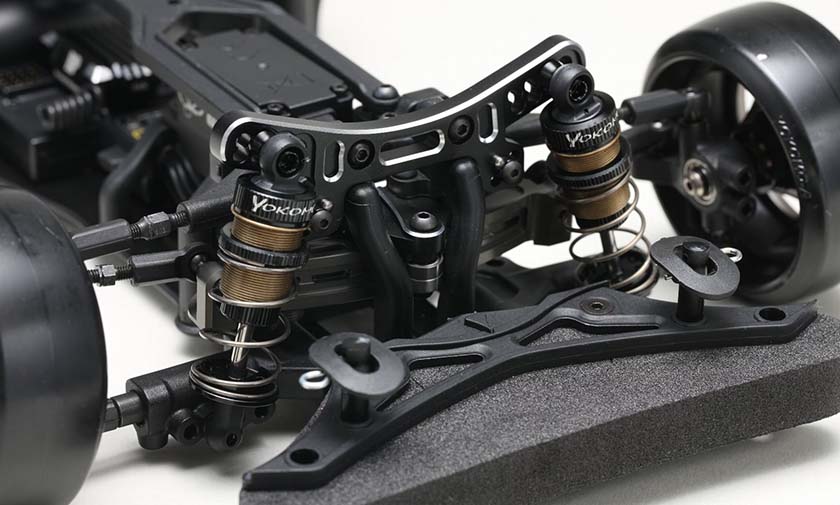 Full of optional parts that are equipped as standard. The shocks, of course, are super low friction aluminum shocks that demonstrate reliable damping force, and in addition, combined with drift-specific springs, it achieves both stability and dynamic performance. The front and rear shock stays are also made of aluminum to ensure reliable operation.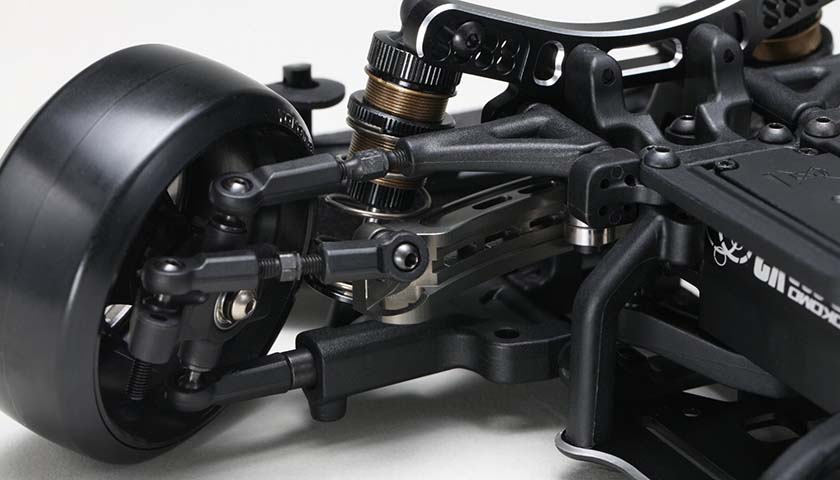 A slide rack system is standard equipment around the steering wheel. A new integrated lightweight slide rack rail is used, and the base is slightly angled for smooth steering characteristics.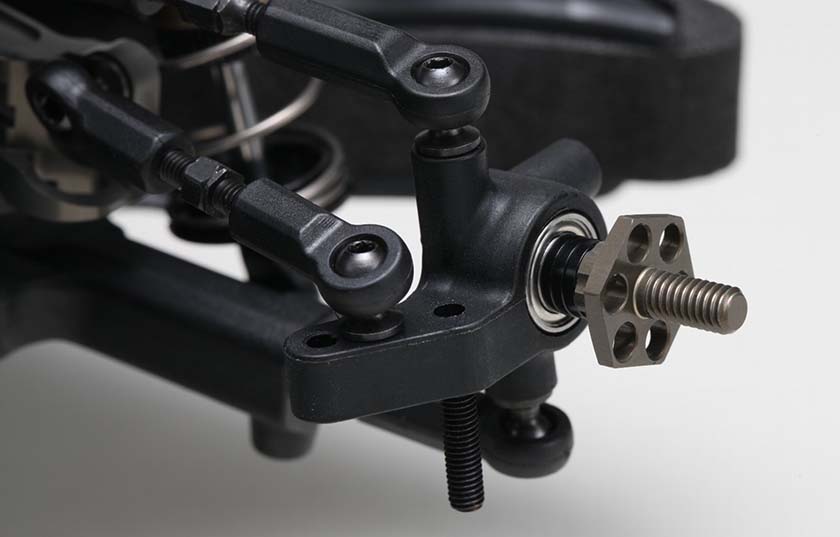 The front axle adopts a high-precision integrated lightweight hub axle. The improved rotation system stabilizes the front grip feeling, and the adjustment of the spacer allows adjustment of the scrub radius. The width of the setting is widened in consideration of the width of the vehicle.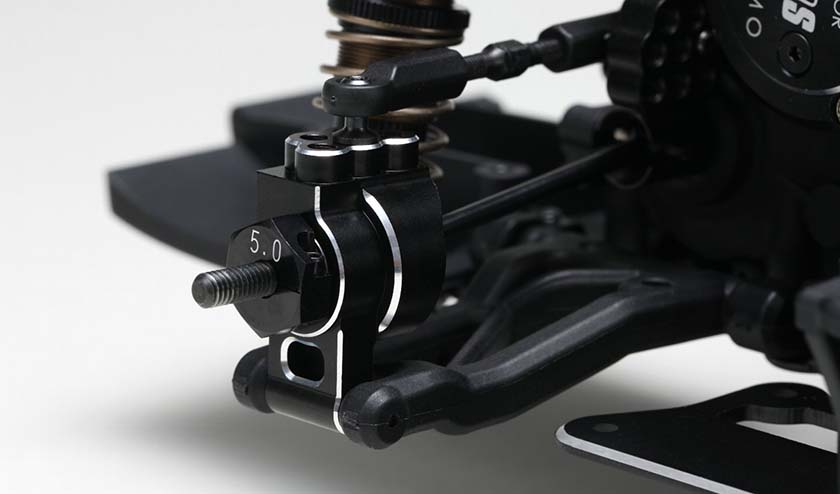 Increasing the rear traction is also an important factor to ensure a sense of stability. An aluminum rear hub carrier is standard equipment to increase rigidity and ensure grip power by improving alignment stability and rotation accuracy. In addition, the hexagonal hub is also made of high-precision aluminum, contributing to improved accuracy.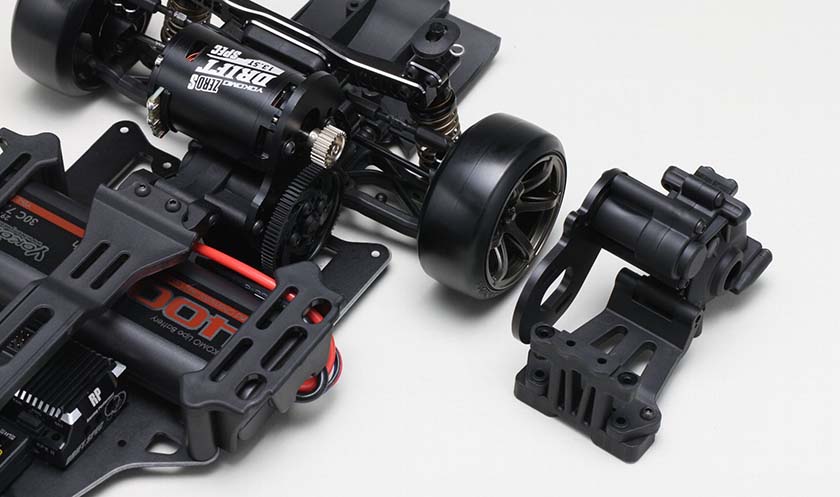 SD1.0 includes both 3 gear and 4 gear gear boxes, so you can use them according to your preference and situation. There is also the fun of choosing between 3 gears, which emphasizes control, or 4 gears, which emphasizes acceleration and traction. Of course, all the parts necessary for installation are also included.
What you need to run the assembly kit
: 2-channel radio set (transmitter, receiver, speed controller, servo), battery (Li-po 2 cell, square short size), charger, 1/10 size drift tires・
The kit does not include body, wheels, tires, motor, batteries, pinion gear, and other R/C electrics.