Yokomo DP-YD2PLSF - Drift Package YD-2 Plus Final Version RWD Chassis Kit
DP-YD2PLSF - Drift Package YD-2 Plus Final Version RWD Chassis Kit
YD-2 PLUS Final version is a limited model based on the YD-2 PLUS Kit. And includes specially bundled option items:
Aluminum Bumper Brace
Aluminum Front shock tower
Aluminum Rear shock tower
Aluminum front SP steering block (variable kingpin angle type)
* So you will have both the original and also the optional parts in your kit.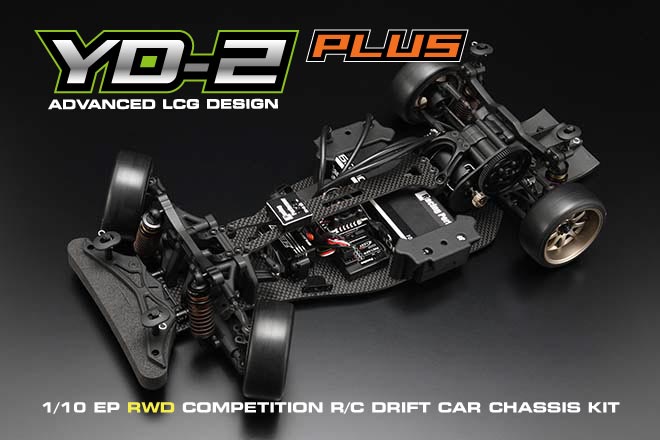 Drift Radio Control Pioneer Yokomo sends out RWD Drift Chassis YD-2. Drive system of innovative 4 gear drive achieves good throttle response and high rear traction. Lateral balance with the horizontal motor is less distorted, neutral steering characteristics create margin in the line trace.
Of course, the completely new design exclusively for the RWD drift machine is also around the front. With the setting of Ackermann ratio that Team Yokomo's drivers are particular about, we gained steering characteristics of straightforward feeling. The difficulty level of full counter drift has dropped considerably.
Specifications:
Total length: 425mm
Full width: 198mm
Wheel base: 256mm
Secondary reduction ratio: 1:2.6
All equipment weight: 1500g
4 Gear rear transmission
Newly designed closed gearbox
Four-wheel independent double wishbone suspension
SLF Aluminum Big Bore Oil Damper
2.5 mm thick high rigidity carbon graphite main chassis
2.5 mm thick carbon graphite upper deck
Aluminum suspension mount
Aluminum motor mounting plate
RWD exclusive high angle steering system
49mm bone rear universal shaft
New design narrow scrub knuckle
Large Rear Diffuser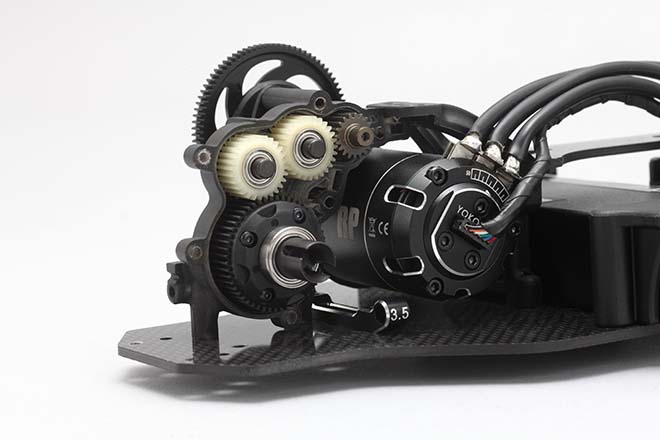 As a drift car, a 4-gear transmission of innovative design. By setting the motor horizontally, it prevents the left-right balance from collapsing due to the counter torque of the motor, and derives the neutral steering characteristic. On the other hand, since the rear traction increases with the throttle ON, it is possible to derive a sense of stability and acceleration at the time of exiting the corner. The enclosed type gearbox is also attractive for its high dust resistance.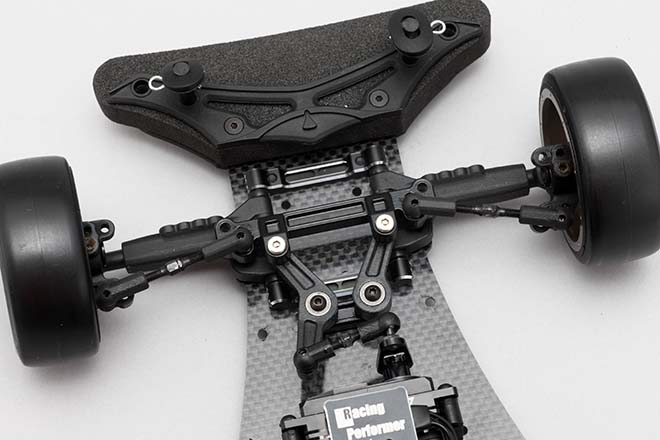 RWD Drift Counter Running according to driving, thoroughly sticking to the angle of cut and Ackermann ratio of the front. By pulling out the front run during steering, it is possible to prevent rear rewinding and allow cornering with less stalling feeling. Of course, you can change the mounting position of the tie rod according to the feeling of the driver and the road surface condition, and respond to various situations including road grip.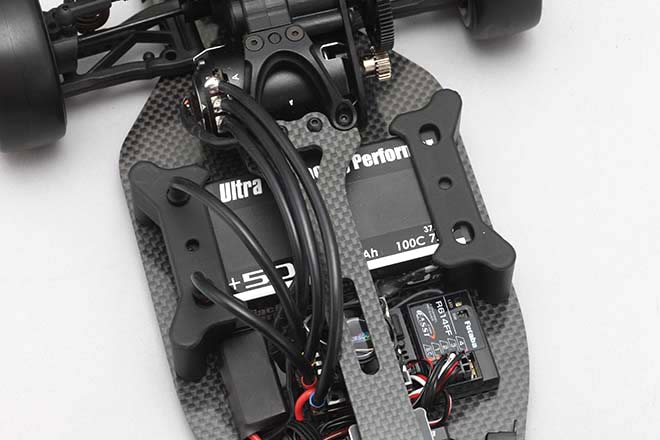 Carbon double deck chassis that creates a lacy atmosphere. By making it a somewhat wide form, draw a moderate roll at the time of cornering and enhance the sense of stability at the time of cornering. It improves controllability by making the behavior gentle, it is possible to produce more realistic behavior of the machine.
By changing the battery holder, it corresponds also to a full-size straight pack to a short Li-po battery.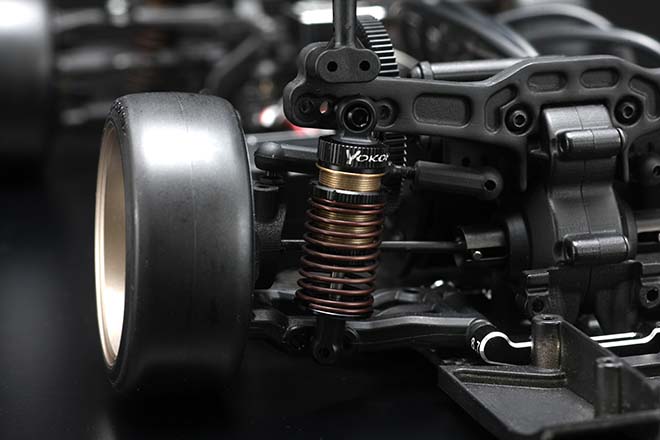 Super low friction shock which applied Kashima coat treatment to aluminum shock cylinder and reduced the frictional resistance with piston to the limit. For on-road use, we adopted a class maximum capacity 11.2 mm big bore cylinder. In the case of resin tires used in drift driving, minor vibration received from the road surface is a major factor of lowering tire grip, but it also absorbs vibrations with a super low friction shock with increased shock capacity, maximizing grip I will earn. Since it is a vehicle height adjustment type, you can change the height of the car simply by rotating the spring tensioner, and it also supports springs of various lengths. Of course, by adjusting the damping force finely by changing shock oil or piston, the optimum setting can be obtained according to various road surface and driving conditions.
※ The picture is an assembled reference example.
Assembly kit: Things necessary for traveling: 2 channel propo set (transmitter, receiver, speed controller, servo), battery (Li-po 2 cell), steering gyroscope, charger, tire, wheel, motor, body, for polycarbonate paint