Sanwa 107A54476A - PGS-LH Type-D Low Profile High Speed Programable Servo
107A54476A - PGS-LH Type-D Low Profile High Speed Programable Servo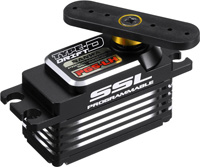 【Spec for Drift】
●Written specialized program for drift
●SSL-COMPATIBLE PROGRAMMABLE SERVO
# Compatible with CODE 10 (M12S, EXZES ZZ, MT-44)
Not Compatible with CODE 5 (M12, EXZES Z, MT-4S, MT-4, MT-S)
●PGS SETTING GEAR-COMPATIBLE
●SUPER RESPONSE (SSR) MODE-COMPATIBLE
●HIGH RESPONSE (SHR) MODE-COMPATIBLE
●Li-Po 2 CELL-COMPATIBLE
●LOW PROFILED
●HIGH SPEED TYPE
●BRUSH LESS MOTOR
●FULL ALUMINUM CASE
●FULL METAL GEAR (Strengthening Gears)
●AL HEAT SINK
Craving "TYPE-D (DRIFT)" on top case
Speed

0.09 sec/60° (7.4V)
0.11 sec/60° (6.0V)

Torque

15.6 kg●cm (7.4V)
12.8 kg●cm (6.0V)

Dimensions

40.2 x 20.5 x 26.0mm

Weight

53g
●Programmable Servo to be compatible with SSL & Telemetry at Launch
●Setting Adjustment by wireless from Radio
●Setting Adjustment to connect Servo with Setting Gear
※In case of using with incompatible Gyro for SSL (SGS-01C/SGS-01D), the servo cannot be set by transmitter through SSL function.
●Regarding Temperature, Current, Voltage and Volume Position on Servo inside,
Telemetry-transmission can be passed to Radio.
# Initial Setting on Setting Gear is necessary.
★Setting Items
●SSL-CH (SSL Channel Setting) ●STRETC (Stretcher Adjustment) ●BOOST (BOOST Adjustment)
●D-Band (Dead Band Adjustment) ●MV-MID (Middle Torque Adjustment)
●MV-END (Later Torque Adjustment) ●BREAK (Break Adjustment)
◎MV-HOLD (Power Adjustment at whole area) ◎MV-FRQ (Feeling Adjustment at whole area)
◎MAX-PW (MAX Duty Adjustment)
※ Setting Gear is necessary for ◎setting.
●PGS-LH TYPE-D Latest Firmware Information
6/DEC/2018 V51.01R403 P5101403.PRO
●Bug fix about servo will not work rarely because misread response mode when turning on.
【Notice】
※The firmware cannot use with PGS-LH,XB,XR.
  DO NOT update to the firmware with the PGS servos. 
【How to update】
1.Insert Micro SD card to your computer and save unzip file (P5101403.PRO) to root in Micro SD card. 
2.Insert Micro SD card to Multi Setting Gear and connect PGS-LH to Multi Setting Gear, then turning on the Gear.
3.If the Gear display "SERVO CONNECT OK?," press back key 3 times and display"SETTING GEAR FOR PGS-LH/XB/XR."
※If the display show "SETTING GEAR FOR PGS-CL/CX," it need to switch Multi Setting Gear Firmware for PGS-LH/XB/XR. 
Please check how to change Multi Setting Gear firmware on our website. 
(http://sanwa-denshi.com/rc/car/option2/multi_setting_gear.html) 
4.Move to "SERVO PROGRAM UPDATE [3]" by ▲SELECT▼ key and press Enter key. 
5.Select update file "P5101403" by ▲SELECT▼ key and press Enter to start update. 
(Firmware update will be finished for about 10 seconds after press enter.)
6.After update is completed, please move to "INFORMATION (VERSION)[4]" and enter to check "PGS:V51.01R403."