ReveD High Traction Rear Spring Medium Soft 30mm 6.0T (2pcs)
ReveD / RD-006RMS / High Traction Rear Spring Medium Soft 30mm 6.0T (2pcs)
Rêve D developed HT (High Traction) rear spring! Four types are available!
Focusing not only on improving the grip in the horizontal direction, but also on the good kicking out in the vertical direction, we prepared four types (hard, medium hard, medium soft, and soft) of the coarse winding type.
Main specifications of medium soft spring
Length (natural length): 30mm
Number of turns: 6.0
Shrink tube color ID : Green
HT rear spring matching table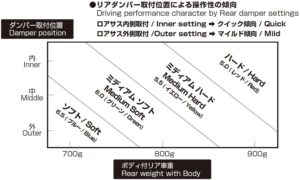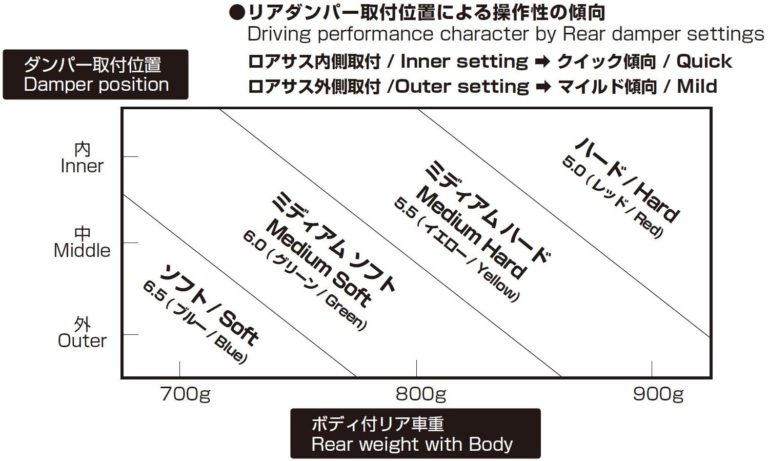 A table has been prepared to make the selection of springs easier to understand.
The first thing is to select the lower arm damper mounting position. The damper has a milder characteristic when installed outside, and a quicker characteristic when installed inside. After deciding the mounting position of the damper, measure the rear side of vehicle weight with the body mounted, and select the spring referring to the matching table.
This matching table is not exact perfect for all, but we hope that you can find your favorite setting based on this matching table.
Heat shrink tube for identification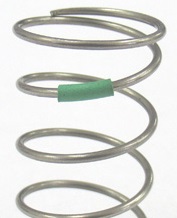 A heat-shrinkable tube is bundled for easy identification of springs.
(* Hard: Red, Medium Hard: Yellow, Medium Soft: Green, Soft: Blue)
Cut it to your desired length, attach it to the spring with reference to the image, warm it with a drier in order to fix it (※ Please be careful of burns when using a drier on high heat)
All in one set is available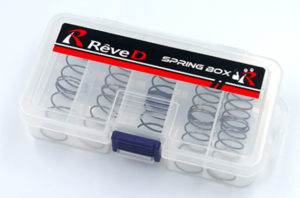 A special full box set is also available with a set of all 5 types of 2WD front and HT rear springs. By using this all in one box set of springs, you can easy to carry all the springs to enjoy various course layouts, road surface.