ReveD RDX RWD Chassis Kit
ReveD / RKD-RDX / RDX RWD Chassis Kit
Rêve D's first original RWD drift car kit "RDX" finally be released.
All the team Rêve D put their effort into developing the RDX, which can be used in a variety of road surface conditions, from low-grip surfaces such as the P-tiles and colored concrete which are currently mainstream, to relatively high-grip surfaces such as carpet and asphalt as well.
It is a lightweight and highly rigid graphite composite resin chassis kit that pursues a running that matches the current drift scene, as well as being easy to assemble and difficult to break.
By fixing the arms and tie rods, even users who are making RC cars for the first time can completely reproduce the optimal suspension alignment for drift driving simply by assembling according to the instruction manual without making difficult adjustments.
The battery can be equipped with short batteries (horizontal / vertical / thin / thick) and almost all long batteries currently on sale for 1/10 scale drift category.
Chassis performance that thoroughly pursues traction performance and maneuverability allows you to enjoy stable drift driving for a wide range of drivers from top drivers to Sunday drivers as a standard machine for the new era.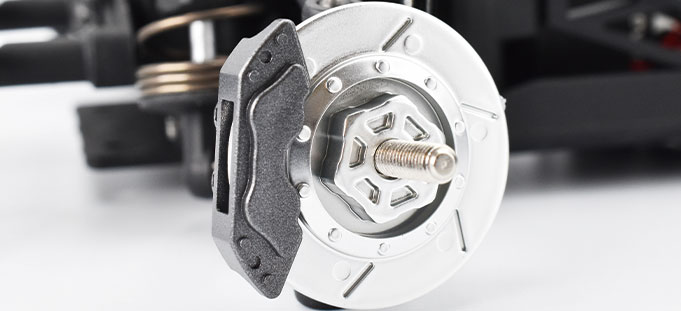 Equipped with slit disk type wheel hubs and calipers on 4 wheels to create a racing style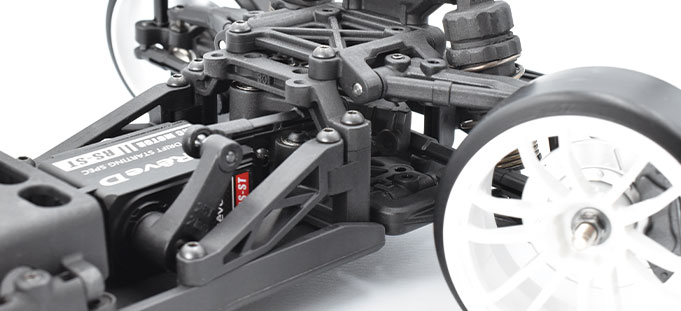 The front suspension, which can easily reproduce the optimum alignment for RWD drift driving, achieves an overwhelming rolling feeling and steering angle.
The bell crank unit tilted forward 3 degrees promises smooth drift control in cornering.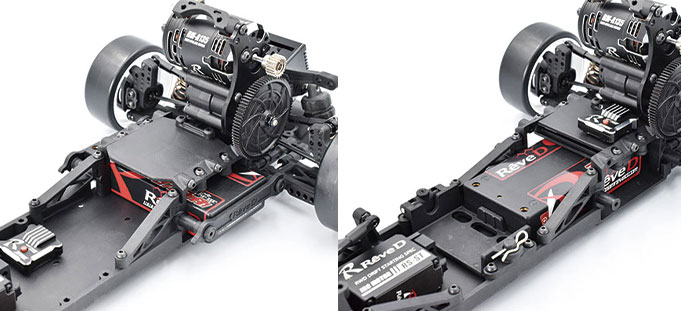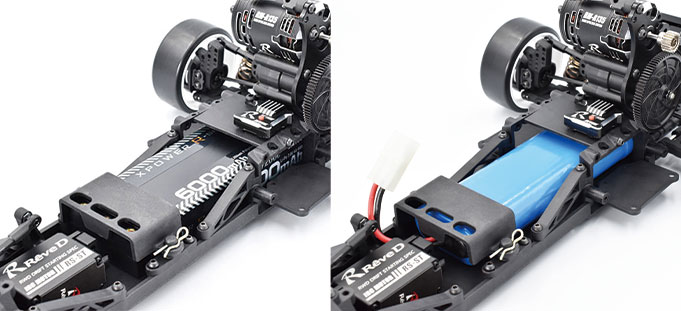 Short batteries (horizontal / vertical / thin / thick) and almost all long batteries currently on sale can be installed.
You can enjoy it with your own battery, and it also supports setting the weight balance.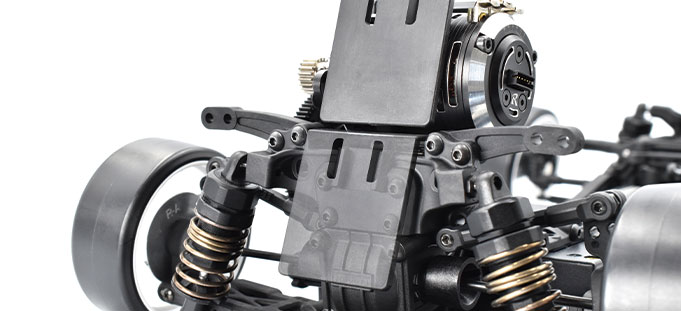 The one-touch detachable ESC plate makes it easy to access the rear differential, allowing for instant maintenance and setting changes.
* On page 26 of the manual, the actual size image of RC-206SN (short neck) of BAG9 used looks like RC-206M. However, RC-206SN (short neck) is included in the product, so please use it as the standard. Check here for corrected image