Yokomo SDR-020 - SD 2.0 Super Drift RWD Chassis Kit
Yokomo - SDR-020 - SD 2.0 Super Drift RWD Chassis Kit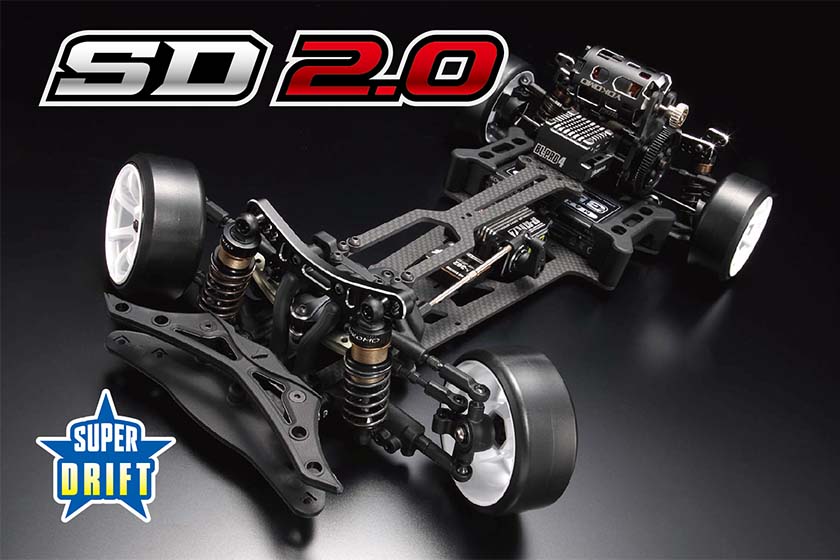 The tuning drift car SD series, which realizes various specifications by rearranging parts, evolves to the latest specification SD2.0. While keeping the basic design of graphite double-deck chassis and gear drive RWD down, the latest RWD drift style is further emphasized by thoroughly reviewing the weight balance and changing the front Ackermann ratio.
Variable transmission with selectable positive torque (4 gears) or reverse torque (3 gears) 
High-precision aluminum rear bulkhead 
Diff can be accessed simply by removing the rear bulk cap
Rear traction can be adjusted with differential height adjustment
Separate chassis structure that makes it possible to change the height of the bulkhead
Rear- side servo mount that achieves a 3:7 weight balance 
Ackermann ratio setting that improves operability with the new steering block 
New lightweight slide rack 
Improved rear traction New rear hub carrier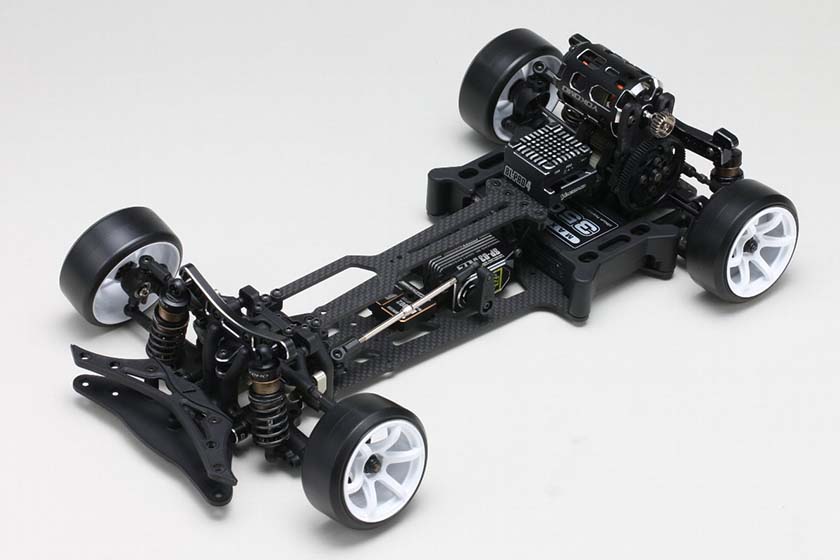 Graphite double-deck chassis designed with the rear load in mind for drift driving.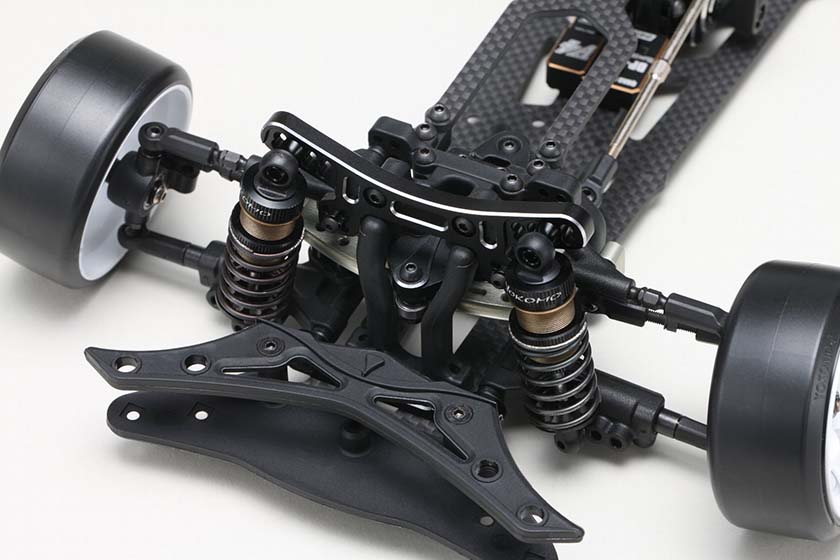 The front section deliberately adopts a resin bulkhead. By finishing the front part in a light weight, it has acquired a moderate front ground feeling and turning performance.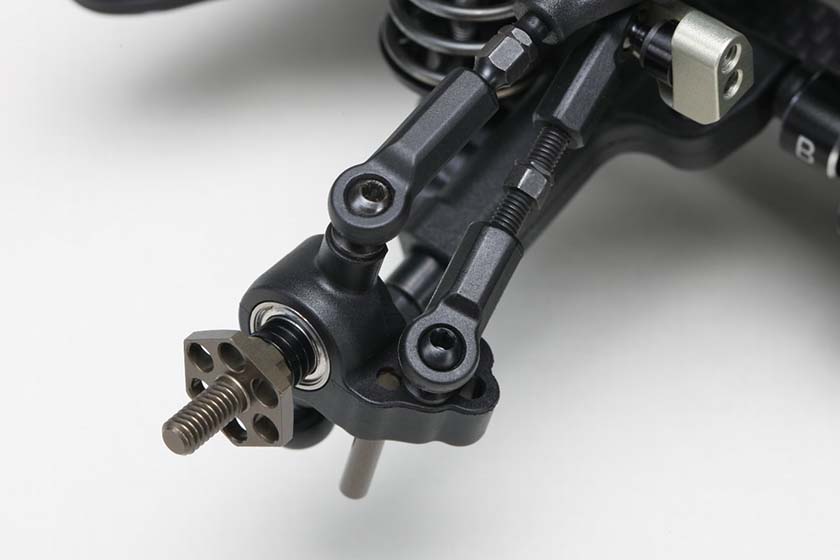 Newly designed steering block to optimize the Ackermann ratio and increase the steering angle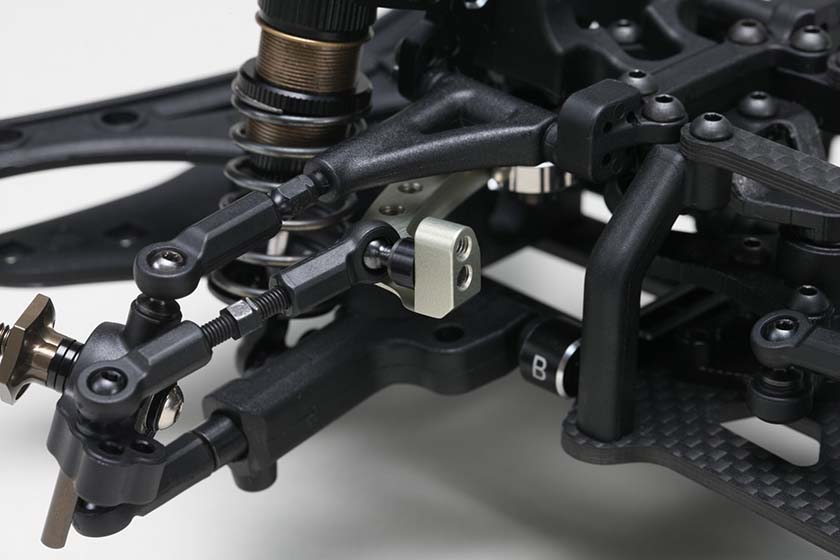 The lightweight slide rack rail held by 3 bearings also contributes to the weight reduction of the front. The steering response is enhanced and the handling is sharp.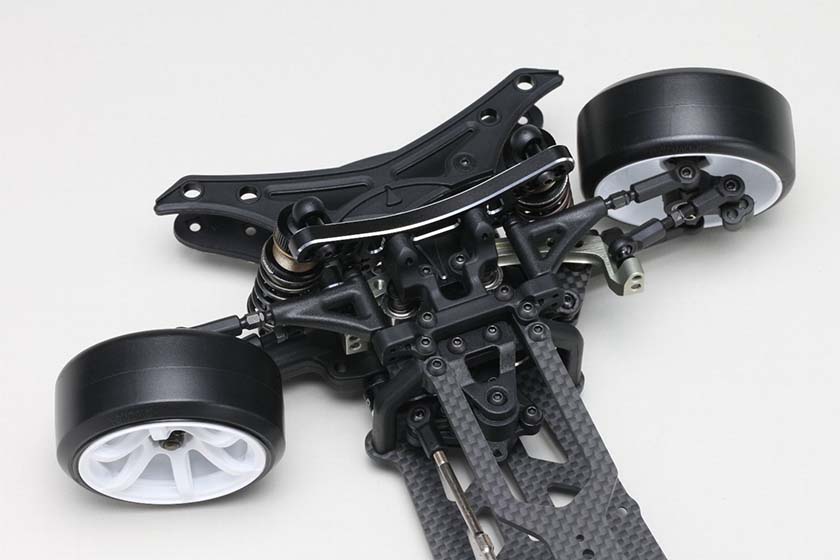 It achieves the maximum cutting angle with the kit standard, and also supports deep drift angles. With almost parallel Ackermann ratio, smooth movement is possible even on low-grip road surfaces such as P-tiles.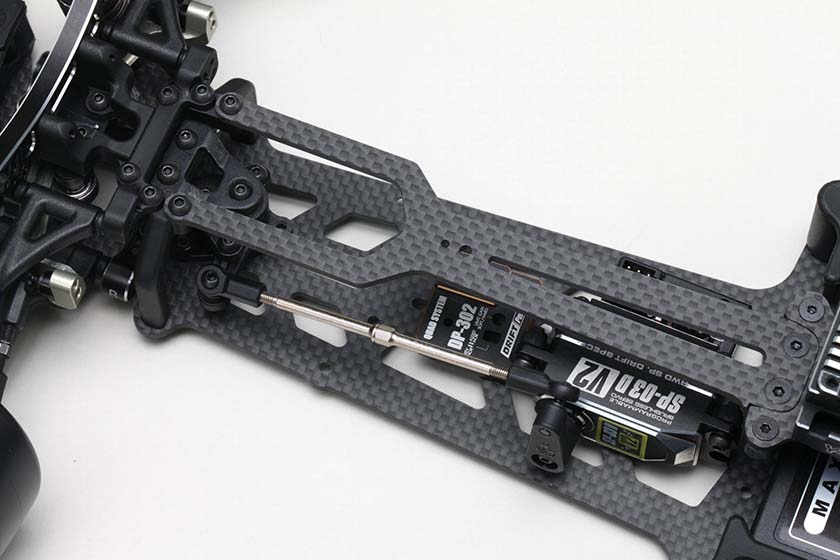 Equipped with a servo behind the steering link crank. In addition, it supports the conventional bell crank system and front inverted servo installation.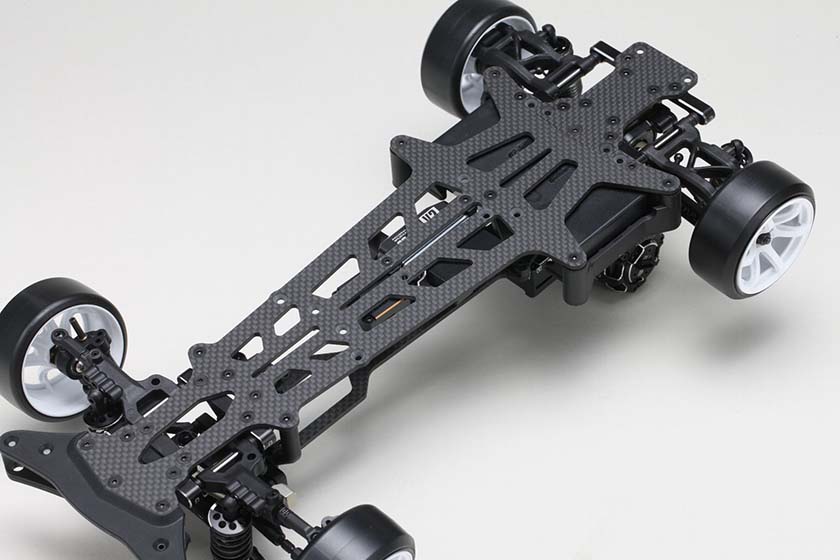 Main chassis with a slim silhouette overall. It has a lot of meat and is finished with supple characteristics as a whole.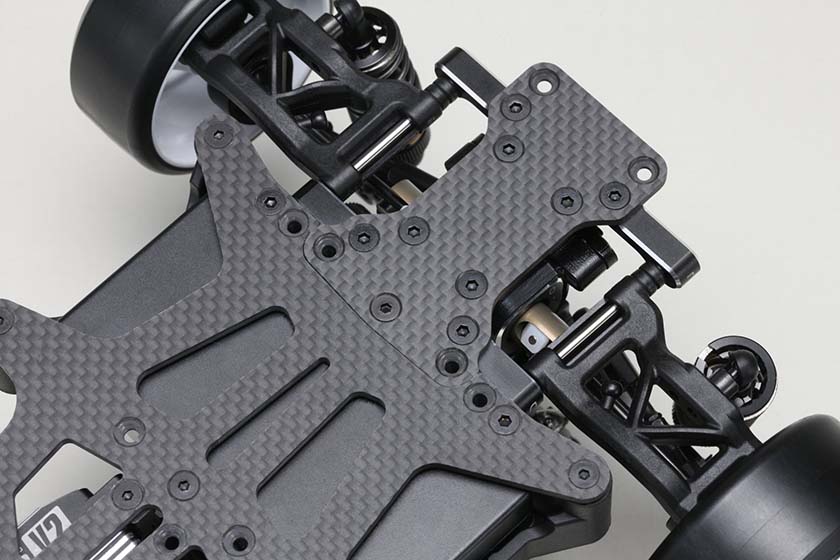 The main chassis and the rear end of the upper deck are split to increase the flexibility of setting the rear section. Good maintainability.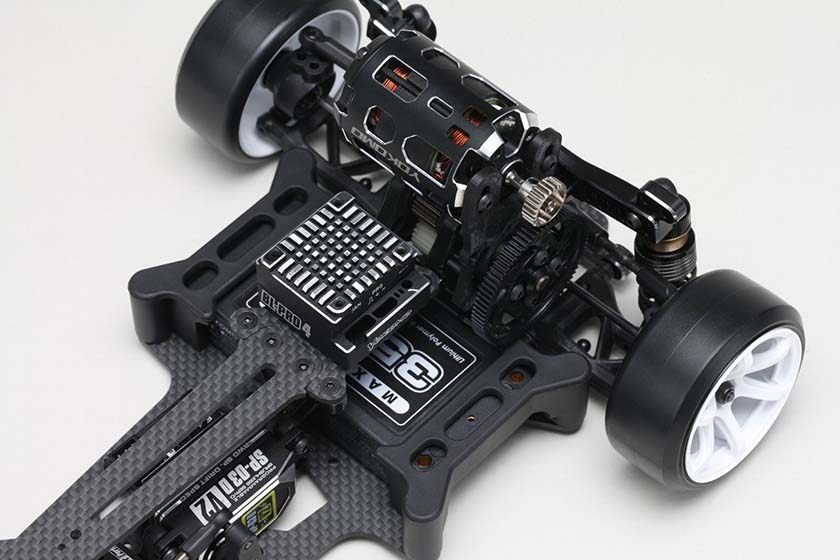 The running battery is for short size Li-po only. The battery position is set at the rear end, and the rear load is increased to gain traction. The weight distribution is front 3: rear 7 suitable for RWD drift cars.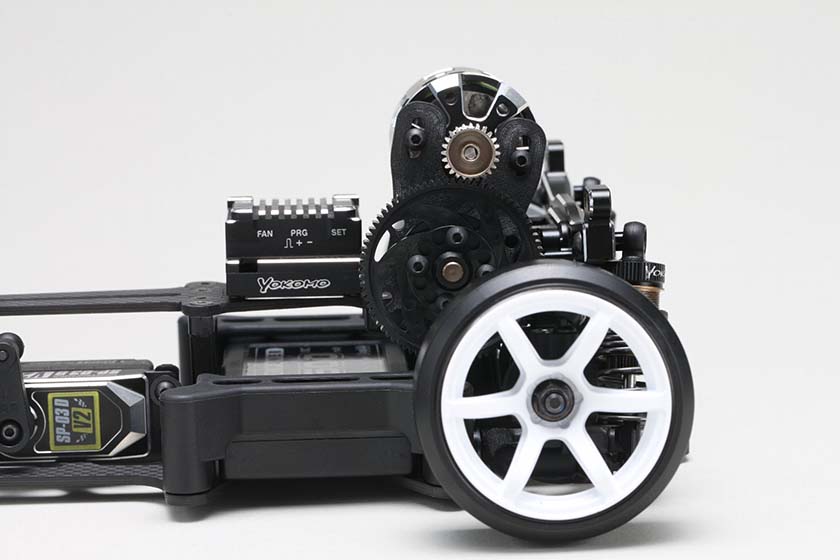 Designed to maximize rear tire traction by mounting the motor high on the rear axle. The motor position can be rotated around the spur gear axis.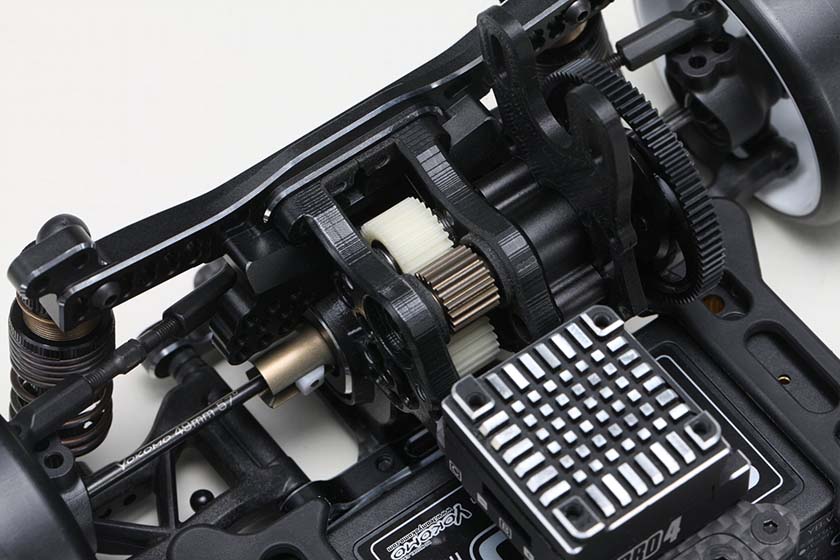 The aluminum bulkhead has high precision and achieves high driving efficiency. It is possible to choose between 3 gears (positive torque) and 4 gears (anti-torque) by rearranging the gears.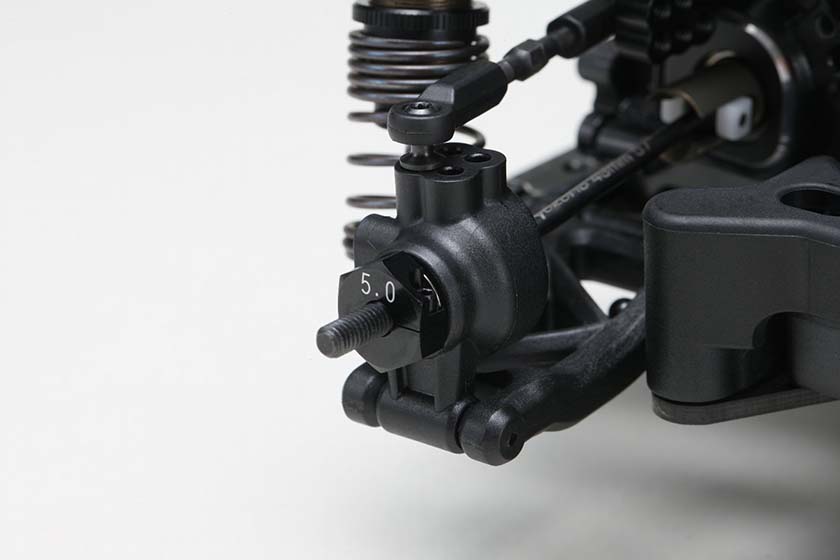 A new type of rear hub carrier that is set to roll more aggressively by reviewing the relationship between the axle and the suspension pin position.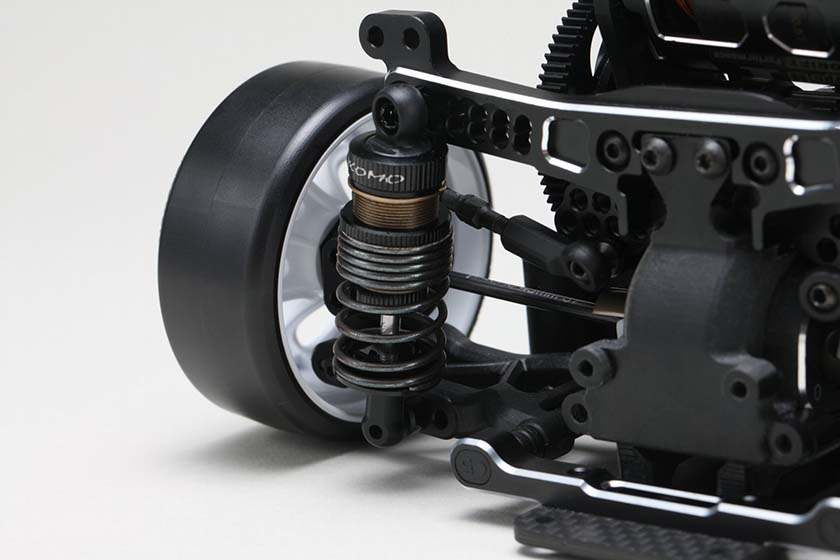 Suspension that combines the standard aluminum vehicle height adjustable oil damper with a special drift spring. The rear is equipped with a progressive spring as standard that absorbs vibration and enhances the feeling of grounding.